The Website for St George's Church, Waterlooville and its Parish Magazine St George's News

Matt is 32 and a keen cyclist but this is his biggest challenge to date- a cycle trip around the coast of England, Wales and Scotland. In the past he has cycled around the coast of Ireland with 2 friends, as well as cycling on a route that took him down through France and into Spain.
This challenge was meant to have marked a decade since Matt's cycle ride in 2010 when he pedalled from Land's End to John o'Groats and back again climbing the 3 peaks on his rest days! Unfortunately due to Covid he was unable to do it last year.
Steve and I bought a motorhome this year so we said we would go with him as his back up carrying his gear and spare parts for his bike and feeding him as well as taking his Labrador George in the motorhome with us.
His next big challenge is the Dragon Ride in the Brecon Beacons in 2022 – 304kms in 24hrs.
Tuesday 31st August – (Day 1)
- 120 miles, 936m climbing. Weather was dry.
And so we began.
Matt left at around 7am and got to Lytchett Minster (Lytchett Manor campsite) at 4.10pm. We picked up the Motorhome from Newtown and packed the rest of the stuff in it and left home at 12.45. We arrived at the campsite just after 2pm and were given Pitch 4.
Matt cycled along Portsdown Hill, Fareham, Gosport, Titchfield, Hamble, Netley, Woolston and round to Millbrook and Ealing and down to Calshot, Lepe, Beaulieu, St Leonards Grange, South Baddersley, Lymington, Milford-on-Sea, Mudiford, Christchurch, Southbourne, Boscombe, Bournemouth, Lilliput, Poole, Hamworthy and on to Lytchett Minster. A long way on his first day.
Wednesday 1st September - (Day 2)
- 92 miles, 2100m climbing. Weather was dry.
Matt left Lytchett Minster at just after 8am. He had to do an eight miles detour at Lulworth as the road was closed then went on to Weymouth, Portland, Abbotsbury and met us at West Bay about 3pm. He then carried on to Charmouth, Lyme Regis and Rowdon where we stayed at Shrubbery Touring Park for the night. Matt said the last bit from West Bay was very challenging as there were lots of steep hills.
Jane Cook
This account of Matt's epic cycle ride is to be serialised, and the journey will continue in the next magazine with lots more glorious photos of the UK coastline.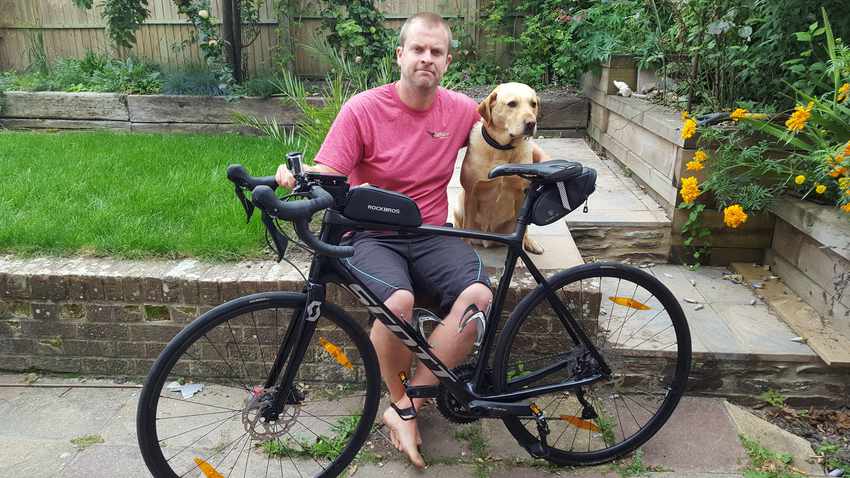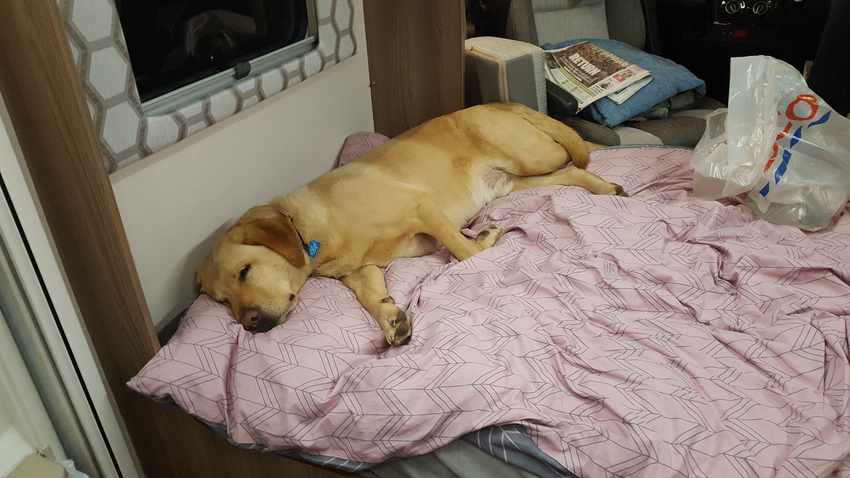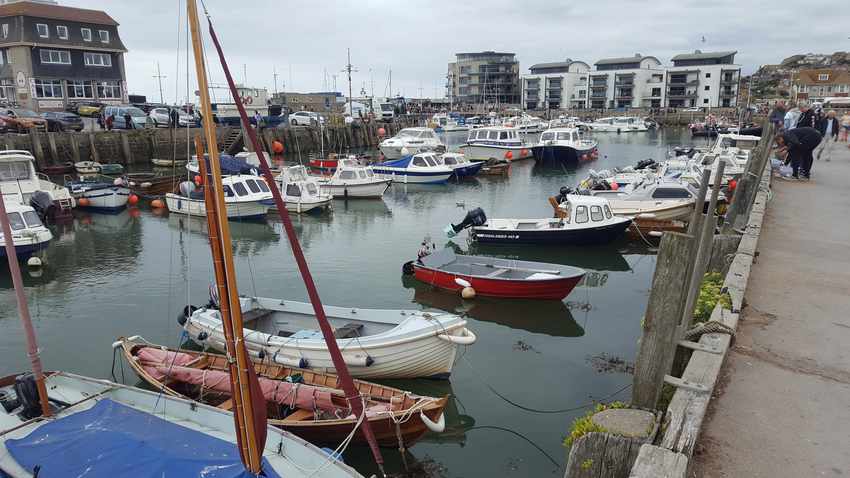 Thursday 2nd September – (Day 3)
– 81.4 miles, 2349m climbing. Weather was dry.
Matt started at 8.30am and arrived at the campsite at Chapelcombe Farm, St Ann's Chapel, Bigbury near Kingsbridge at 6pm. He cycled to Sidmouth and on to Exmouth where he got the first of 3 ferries – Star Cross, Exmouth, Dartmouth and East Portlemouth. On to Torquay and Paignton where we met him for lunch – trying to find a parking place for the motorhome was a bit of a nightmare! Too windy to put the awning up tonight so Matt put up his pop up tent. We walked up the road tonight about 200m from the campsite to the little village of St Ann's Chapel where we had a lovely meal at The Pickwick Pub.
Friday 3rd September – (Day 4)
– 78.8.miles, 2181m climbing. Weather was dry.
Matt cycled from St Ann's Chapel to Rickston and on to Plymouth, over the Tamar Bridge, Trerulefoot, Looe, Port Looe, Barcelona, caught the Boddinick ferry then cycled from Fowey to Par, St Austell, Mevagissey and on to St Mawes to catch the second ferry of the day. Staying at a campsite called Trewen Farm – a large field with lovely views over Falmouth and the estuary but with no electric tonight.
Saturday 4th September – (Day 5)
– 82.75 miles, 1740m climbing. Weather was misty at the coast with drizzle but this was not too heavy.
Matt left the campsite at 9.10am to get the ferry across the Helford river to Helford. He then rode on to Lizard Point and back and on to Penzance and then to Lands End where we met him.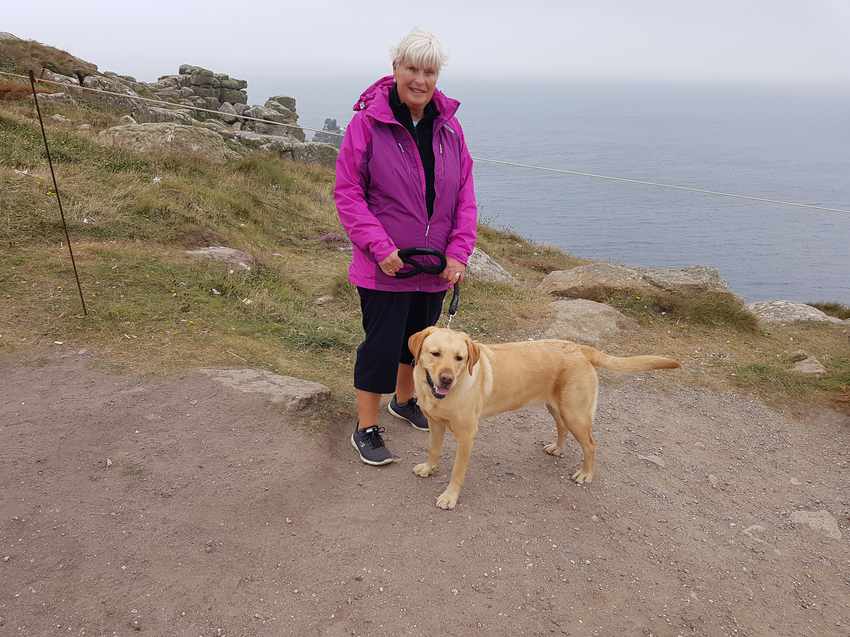 We had a look around before Matt arrived and took George for a walk. He then rode along the coast road to St Just, St Ives and on to Treglisson campsite at Hayle where we stayed for the night.
Sunday 5th September – (Day 6)
– 87.5 miles, 2237m climbing. Weather was dry and sunny when we got to Bude.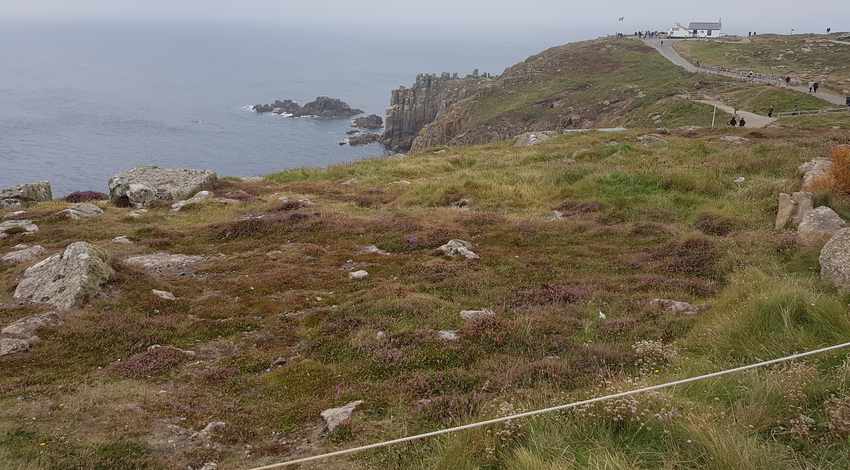 Matt left Hayle at 8.10am and cycled along the coast road to Portreath, Perranporth, Newquay and on to Padstow then on to Wadebridge and skirted the edge of Bodmin Moor, Mount Pleasant, Davidstow and on to Bude where we stayed at a very nice campsite called Wooda Farm.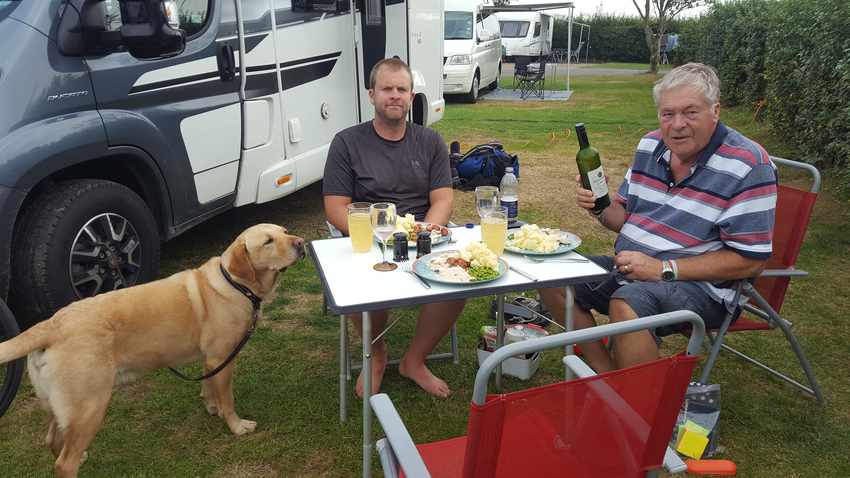 Monday 6th September – (Day 7)
– 80 miles, 1822m climbing. Very misty when we got up but soon cleared to a hot sunny day with temps of 27 degs. Matt cycled 80 miles today with 1822m climbing. He left at 8.30 and arrived at the campsite at Porlock in Somerset at 5.15pm. He cycled along the coastal path to Hartland, Bideford and we then had a phone call to say a spoke had broken and the spares were in the Motorhome so we met him at Asda Barnstaple so he could repair it. He then cycled to Braunton, Ilfracombe, Combe Martin, Blackmore Gate and down to Lynton & Lynmouth. He cycled along Countisbury Hill which is 3.1km long and very steep which we can vouch for as we went the same way! The one good thing was that he thought he then had to go up Porlock Hill but it turned out it was a very steep downhill - we went on the Toll Road to avoid it as it is so steep. The photo below is of Lynmouth with the mist over the sea and a church on top of the cliff.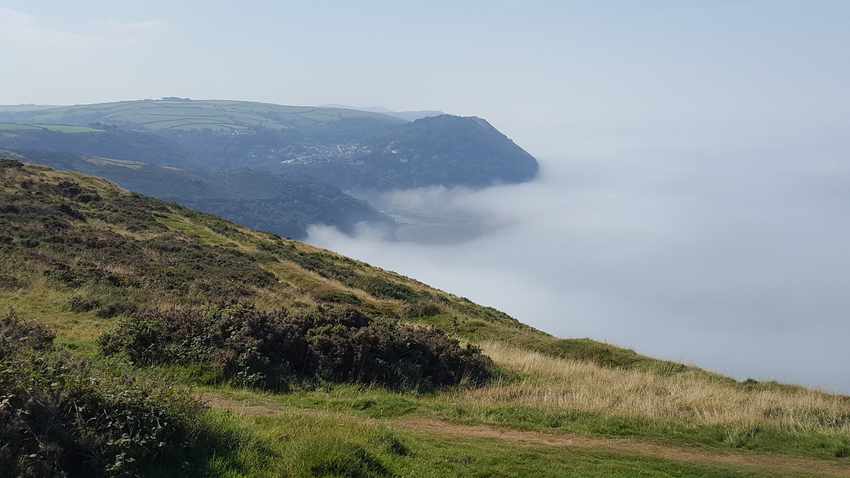 Tuesday 7th September – (Day 8) –
110 miles, 1179m climbing - very sunny and hot. Matt travelled to Minehead, Woolverton, Stogursey, Bridgewater up to Highbridge, Weston-super-Mare, Congresbury, Bristol, past the Cliftonville Suspension Bridge, along to the Severn Bridge, over bridge into Wales and on to Chepstow, down to Caldicot, skirted Newport and down to the campsite at Ty Coch Farm, Newport which is lovely. We had a hairy journey along the A49 very narrow in places but finally got onto the M5/M4.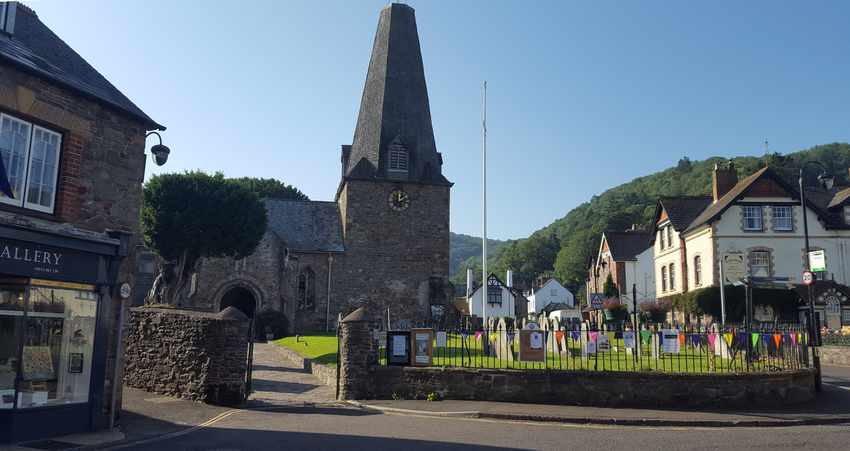 St Dubricius Church, Porlock
Wednesday 8th September – (Day 9) –
101 miles, 833m climbing + a very steep hill up to the campsite! Matt left at 8am and arrived at 4.15pm. Travelled through Cardiff, Penarth, Barry, Ogmore-by-Sea, round to Porthcawl, up to Port Talbot, Swansea, Mumbles, Gower Peninsula, Harkmill to Reynoldston, Fairy Hill, Gowerton and on to the South Wales Touring Park at Llangennech. Steve and I took George for a walk around the sea wall this morning before leaving the campsite - sadly he couldn't get near the sea!! Fortunately it stayed dry for Matt's ride but we've had very heavy showers tonight - first rain of the trip.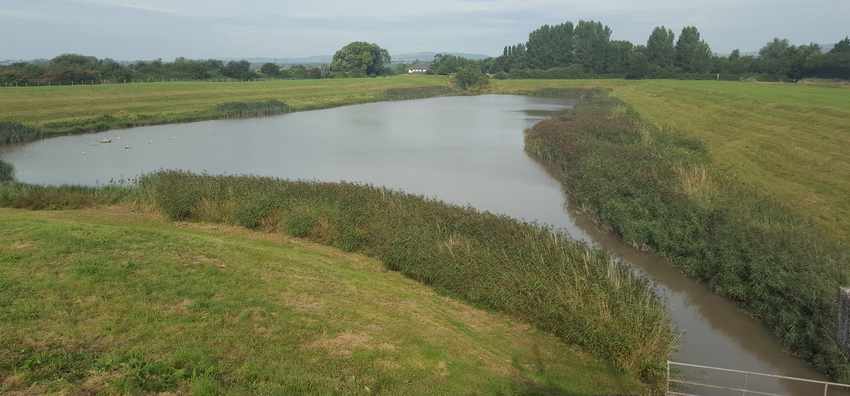 Thursday 9th September – (Day 10) –
a shorter day today - 60 miles with 937m climbing. Just as well really as the weather started off very wet. Fortunately by the time Matt left it had virtually stopped but did rain along the way. He cycled to Llanelli, Burry Port, Carmarthen, St Clears, down to Amroth, Saundersfoot, Tenby and across to Pembroke to Windmill Hill Caravan Park. The owner showed us a short cut across the fields to avoid the main road so we walked into Pembroke and had fish and chips by the river. Great walking in as all downhill but very steep walking back.