The Website for St George's Church, Waterlooville and its Parish Magazine St George's News

All Souls Requiem Eucharist, Sunday 31st October
"Loved ones live on in our memories." It was felt that the All Souls Requiem Eucharist should, this year, be especially a Remembrance of all those who had lost their lives during the time of COVID.
We had two traditional hymns - Abide with me and The Day Thou Gavest Lord has Ended. There were prayers, readings and some lovely choral music. The Mass setting was that by Gabriel Fauré and there was an augmented Choir with guest vocalists and an Orchestra.
During the service we lit candles in remembrance of our loved ones who had died. It was a very beautiful and moving service scones were served in the Church Hall.
Church Shop Fortnight, 1st - 13th November
Our Church Shop fortnight was a great success. We had plenty of stock which had been stored in various sheds, garages and spare rooms around the Parish. This was gathered up and brought to the old Store 21 premises in Waterlooville Precinct which we had been able to borrow again this year.
A vast selection of – well anything and everything was arranged on shelves, tables and rails – clothes, shoes, bags, china, glassware, furniture, pictures, toys, linen, books, CD's, DVD's – we became the "in place" for anything you needed.
Helpers "manned" or should that be "personned!" the shop by rota.
As items sold more stock was added during the two weeks and lots of customers made frequent visits to browse, buy and sometimes just to chat.
The magnificent sum of around £7,300 was raised for Church Funds, with the final figure, after adding in Gift Aid, hopefully approaching £8,000.
Mothers' Union meetings
November:
Pauline Wale talked about our Mothers' Union projects. She had brought with her some items members had knitted for the Neo-Natal Unit at the Queen Alexandra Hospital – these include blankets, cardigans and bonnets made specially to fit babies who need to be on ventilators.
Also sadly, quilts and gowns for babies that are still born.
The original pattern for these gowns came from our Link Diocese in Sydney, Australia.
Any items not suitable for the hospital are donated to the E.S.Roberts Centre in Portsmouth.
December:
About a dozen ladies gathered in the small hall at Christ Church, Portsdown for our Christmas Tea Party.
We began our afternoon with prayers, two carols, a Bible reading and poems with a seasonal theme.
Afterwards there was a tea with savouries, small cakes and mince pies.
Later notices were read, Christmas cards exchanged and next year's programme and the latest MU Contact given out.
There was also a raffle and Norma had brought a selection of MU Cards for sale.
We raised £1,940.73 on the day which increased to £2,008.08. An all time record.
Remembrance
At the eleventh hour of the eleventh day of the eleventh month we stood by the Church Lych Gate in commemoration and respect for all those brave men and women who lost their lives in war.
We held our Remembrance Day service the following Sunday morning. Our Church had been beautifully decorated with a great many poppies - both inside and outside.
As the service ended the whole congregation re-assembled in the Church grounds for the traditional two minute silence and the playing of the Last Post.
Handel's Messiah
On 20th November a "Come and Sing" performance of Handel's Messiah took place. The conductor was Paul Pilott. A workshop for the singers was at 2.30pm followed by the performance itself at 4pm. A retiring collection raised around £200 for church funds.
The Choir and Orchestra in the Gallery
with David Cain conducting.
The queue lining up on the opening morning
of the Church shop.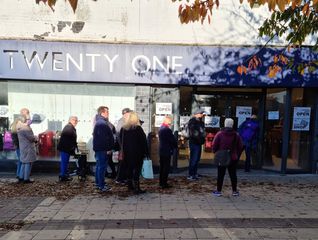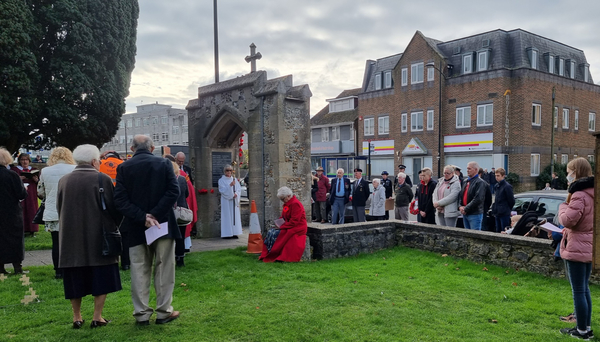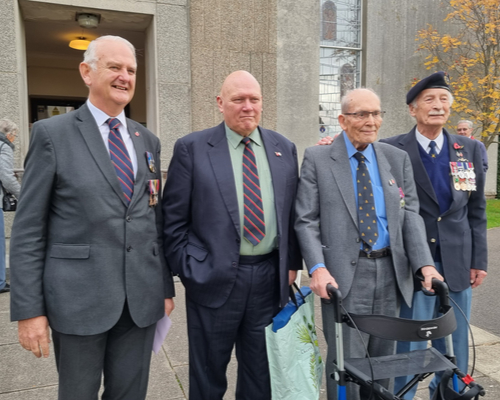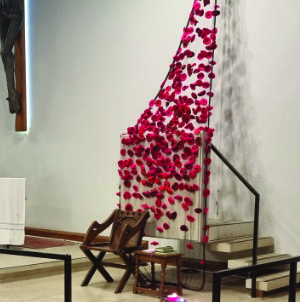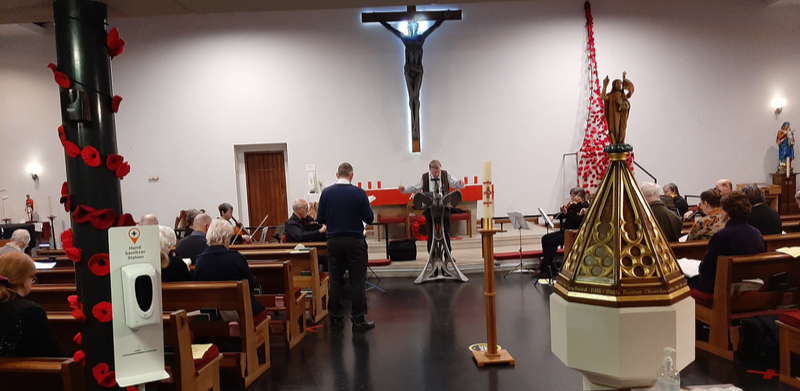 Horndean Amateur Theatre
On Thursday 25th November for 3 nights, HAT presented three short plays in St George's Church Hall. These were entitled The Final Curtain, A Life Lived and A Day to Forget. The first and last of these were written and directed by our own Iain Renfrew, better known as a member of our choir.
All the plays were excellent and each very different. My favourite, A Day to Forget, was about an inexperienced priest unexpectedly called upon to officiate at a wedding – confusion and mishap ensues!
A most enjoyable evening.
Advent Carol Service, Sunday evening 28th November
Our Advent Carol Service was held on 28th November in the evening. Our readings foretold of the coming of the Messiah in Isaiah and Zechariah in the Old Testament, with two readings from Luke, the first about St John the Baptist and the second The Angel Gabriel's visitation to Mary where he tells her she will become the Mother of Jesus.
We sang five of the beautiful Advent hymns including O Come, O Come, Emmanuel and my favourite Lo! He Comes with Clouds Descending.
Band Concerts in St George's Church
Two local bands held their Christmas Concerts in St George's Church. The first, on Saturday afternoon 4th December, was the Meridian Winds, conducted by Don Lloyd.
We sang along to a selection of Christmas melodies at the beginning and ending of the concert. In between we listened to pieces including The Lion King, Dance of the Tumblers (Rimsky Korsakov), Fanfare for the common man, and Troika (Prokofiev). There were refreshments at half time and a raffle which included some delicious looking cakes donated by Wendy from the Blue Box Cake Company, who was one of the percussionists. Sadly I didn't win anything so didn't get to taste them!
The second concert, again in the afternoon, was on Saturday 11th December. This was the Horndean Band, a lovely Christmassy Concert where we also sang along in parts.
Two really enjoyable concerts.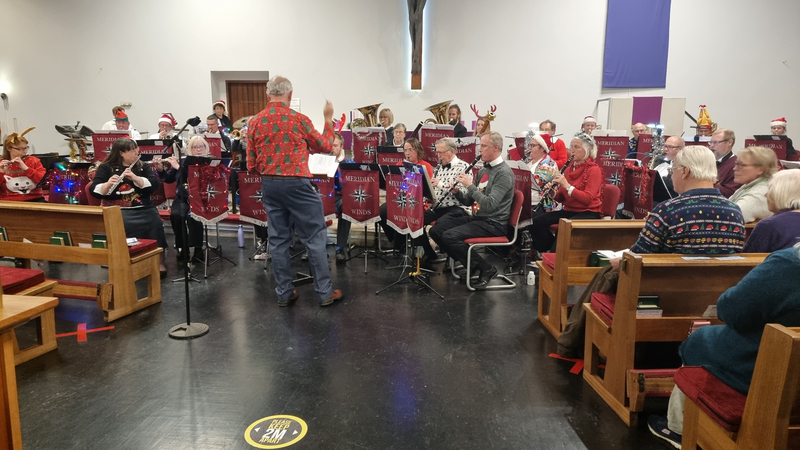 Church Bazaar, Saturday 11th December
We set up our stalls on Friday afternoon in preparation for our Church Bazaar on Saturday which was to open at 9.30am for four hours.
On Saturday morning Father Christmas, Fr Colin and Alfreda the Spaniel declared the Bazaar open (see cover photo).
There were teas and coffees, hot dogs, burgers and soup for anyone who was hungry.
The stalls included cakes, crafts, books, CD's and DVD's, pickles, scarves and bags, bric-a-brac, a chocolate tombola, large tombola and a Grand Raffle.
It was a successful event and raised over £1,525 for Church funds.
St George's Bereavement Group
The Bereavement Group held its Christmas Bazaar on Monday 13th December. There were craft stalls around the hall and seating for the refreshments in the centre.
There was a (rather difficult!) table quiz and a very large raffle.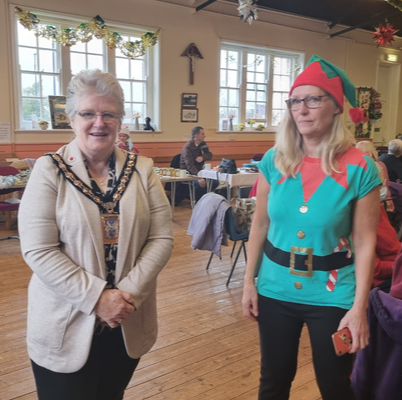 The queue lining up on the opening morningLinda Smith, organiser of the Bereavement Group Christmas Bazaar, with
the Worshipful The Mayor of Havant, Cllr Rosy Rainesof the Church shop.
On Remembrance Sunday the Community Police joined us at the after service Coffee, and Rosy had the opportunity to try out the Police Uniform.